EMI
EMI/EMC Test and Measurement
Area of Design Consultancy
EMC Division of SAMEER - Center for Electromagnetics is a centre of excellence in the field of EMC in the country. The Division provides EMC test, installations, design consultancy services and performance evaluation of power conditioners to electronics/ electrical industries for improvement in quality and performance of their products for civilian applications. The division makes one of the largest teams of scientists and engineers working in the area of EMI/EMC. Any challenges in meeting the requirement will be taken up by the design consultancy team to offer cost effective solutions in a time bound manner. The EMC suggestions and guidelines offered can help you achieve the compliance at the first go itself.
The Division is ISO 9001 certified for its Test and Design consultancy services. The Division is also accredited by various agencies like National Accreditation Body for Standardization and Calibration Laboratories (NABL), Canadian Standards Association, TÜV - Rheinland, TÜV - Süddeutschland. The Test facilities for conducted and radiated emission measurements are listed by FCC.
The Division is headed by The Head of the Division. The EMC Division has a Customer Care Cell (CCC) taken care by Officer In-charge for interfacing between customers and the division. The CCC looks after all needs of the customers for satisfaction in the intended services. There are six measurement and design consultancy laboratories: Calibration Laboratory, Conducted Susceptibility (CS) Laboratory, Conducted Emission (CE) Laboratory, Radiated Emission (RE) and Radiated Susceptibility (RS) Laboratories and Open Area Test Site (OATS). The laboratory in-charge in each laboratory takes care of the functioning of these laboratories. There are test engineers who undertake the testing activities of the division. Team Leaders supervise design consultancy activities.
The EMC Division has a quality management system to (a) Demonstrate its ability to consistently provide test / measurements and design consultancy services that meets customer and applicable regulatory requirements. (b) To enhance customer satisfaction through the effective application of the system, continual improvement of the system and the assurance of conformity to customer and applicable regulatory requirements.
Automotive RS Facility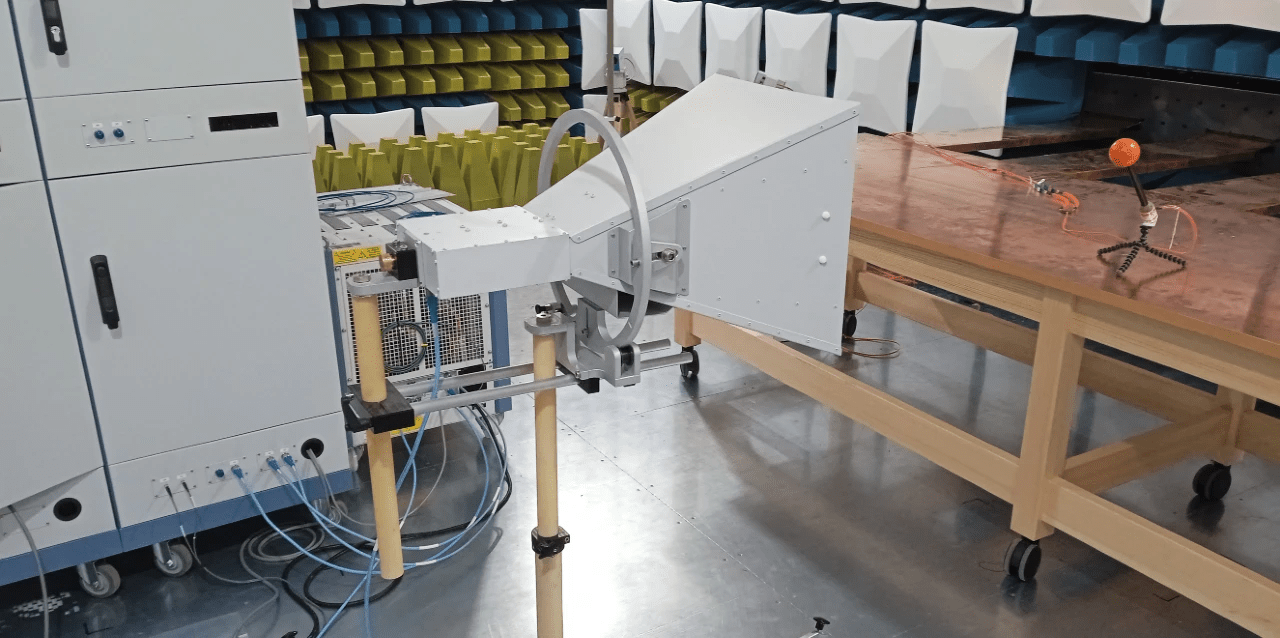 Rename as Automotive EMI/EMC Facility
At SAMEER Centre for Electromagnetics, we understand the unique requirements of the automotive sector when it comes to EMI EMC testing. We are proud to offer specialized facilities for carrying out various Automotive EMI EMC tests, ensuring that your automotive products meet the specific standards and specifications of the industry.
Our specialised automotive testing capabilities include the following:
10-Meter Shielded Anechoic Chamber for Radiated Emission:
We have a state-of-the-art 10-meter shielded anechoic chamber specifically designed for radiated emission testing. This chamber is capable of accommodating small vehicles, allowing us to assess the electromagnetic radiation levels emitted by automotive components and systems. With our advanced equipment and expertise, we can accurately measure and analyze radiated emissions to ensure compliance with the relevant standards.
Radiated Susceptibility:
Our facilities also include a radiated susceptibility setup that supports field strengths of up to 200V/meter. This capability allows us to subject automotive components and systems to controlled electromagnetic fields, simulating real-world conditions and assessing their performance and immunity to electromagnetic disturbances.
Automotive Conducted Transient Pulses:
We have a comprehensive range of generators specifically designed for automotive conducted transient pulses. These generators cover various pulse types such as Pulse 1, 2a, 2b, 3a, 3b, 4, 5a, and 5b, supporting a wide range of ISO and vendor-specific standards. With our advanced equipment, we can accurately simulate transient pulses that are commonly encountered in automotive environments and evaluate the response of your products to ensure they meet the necessary requirements.
Bulk Current Injection (BCI):
Our BCI testing capability covers a frequency range of 1 MHz to 400 MHz, allowing us to evaluate the immunity of automotive components to conducted disturbances. With our BCI setup, we can inject currents of up to 200mA into the system, replicating realistic scenarios and assessing the performance of your products under such conditions. This ensures that your automotive components can withstand conducted disturbances and maintain proper functionality.
Electrostatic Discharge (ESD) Facility:
We provide an advanced electrostatic discharge facility equipped with a wide variety of networks to support ISO and vendor-specific standards. ESD testing is crucial in the automotive industry to evaluate the susceptibility of electronic components to electrostatic discharges. Our facility allows us to simulate ESD events and assess the ability of your products to withstand and recover from electrostatic discharges, ensuring their reliability and robustness in automotive applications.
With our specialized automotive EMI EMC testing facilities, we can help you meet the stringent requirements of the automotive industry and ensure that your products are compliant with the relevant standards. Our experienced team and advanced equipment are dedicated to delivering accurate and reliable results to support the success of your automotive projects. Contact us today to learn more about our automotive testing capabilities and how we can assist you in achieving electromagnetic compliance for your automotive products.
End Users: Automotive Industries, Designers, Sub assembly manufacturers and designers etc.
2 & 3 Commercial CS & Commercial RE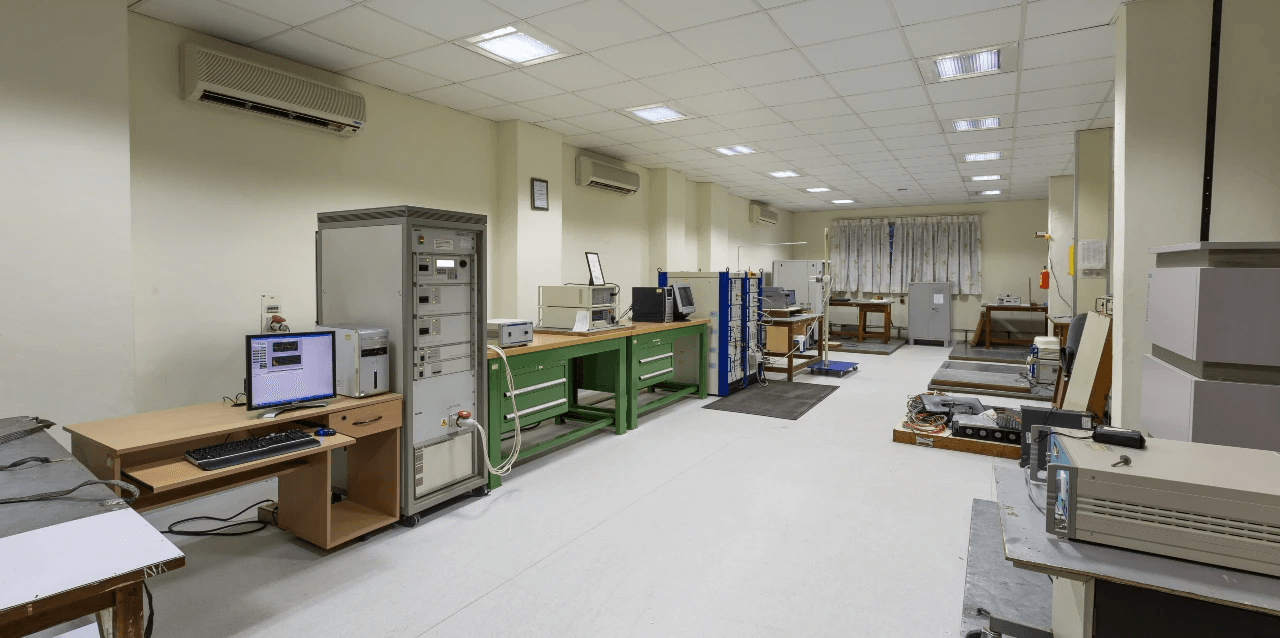 Combine and rename as Civilian EMI/EMC Facility
We specialize in offering EMI Test & Measurement Services that adhere to a wide range of National, International, and Vendor-Specific Standards. Our facilities are ISO/IEC 17025 accredited, ensuring the highest level of quality and reliability. At SAMEER, we boast state-of-the-art laboratories equipped with cutting-edge facilities for EMI EMC evaluation services. We continually upgrade our test instrumentation to stay up-to-date with the latest editions of the test standards.
Our test setups are organized into conducted and radiated immunity and emission laboratories. Let's take a closer look at each of these facilities.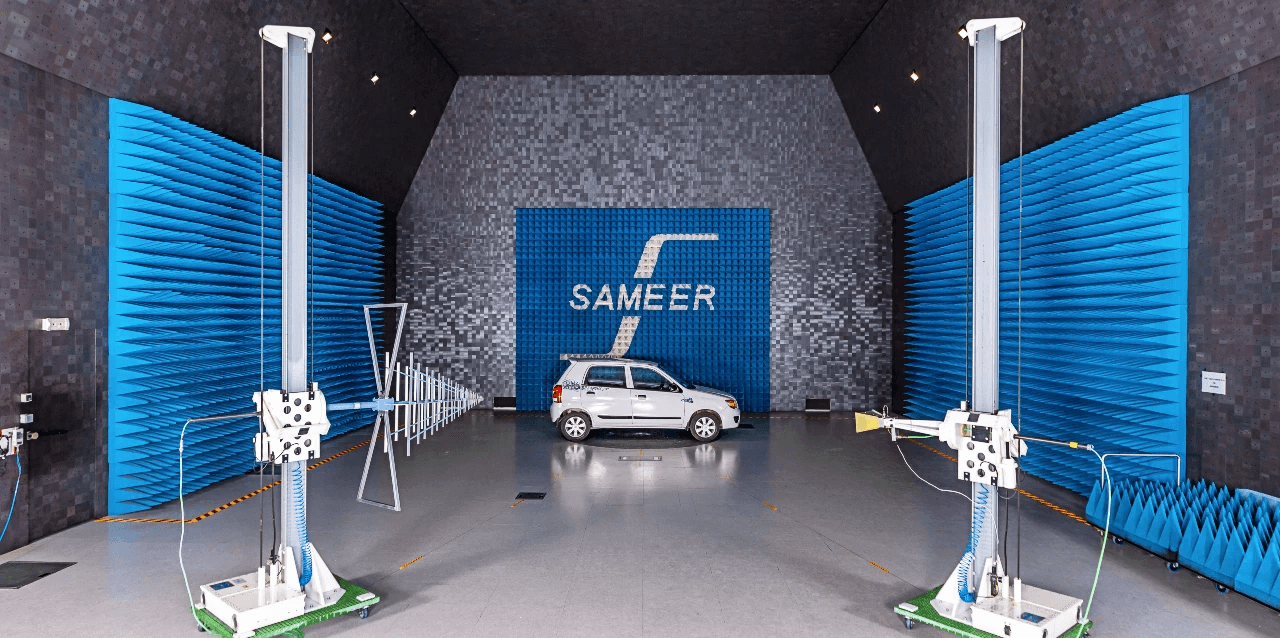 Radiated Test Facility:
Our radiated test facility features a shielded semi-anechoic chamber designed to support 10-meter measurements. This facility includes an automated turntable and an antenna mast capable of supporting a 1 to 4-meter height scan. To ensure accurate monitoring of equipment performance during tests, we provide CCTV monitoring facilities. Our chamber can accommodate equipment weighing up to 3 tons, with a volume within a 3-meter diameter and 2-meter height. This capacity is sufficient to test small four-wheeler vehicles. Since its commissioning in 2005, our radiated test facility has been a unique offering in the country, providing 10m commercial EMI measurements. We are capable of conducting both immunity and emission measurements up to 18GHz. Additionally, we provide Power Frequency Magnetic Field Immunity Tests and Radiated Power Disturbance Test Facilities at our laboratory.
Conducted Immunity Laboratory:
Our conducted immunity laboratory is equipped with generators capable of conducting tests such as conducted RF and various types of transients like Surge, EFT, Damped Osc., and ESD. We also offer facilities for Pulse Magnetic Field and Damped Oscillatory Magnetic Field Immunity Tests. Moreover, we have the necessary equipment to perform Conducted Transient Pulses testing as well as Bulk Current Injection as per various Automotive Standards.
Conducted Emission Laboratory:
In our conducted emission laboratory, we provide facilities for Conducted RF Emission, Harmonics and Flicker Emission, Conducted Transient Emission, and more.
At SAMEER Centre for Electromagnetics, we can conduct tests based on the most of the commonly followed civilian standards under IEC, EN, CISPR, FCC, ISO, BIS, and many others. Our comprehensive range of services ensures you can rely on us for all your EMI test and measurement needs.
End users: Electrical & Electronics Industries including MNCs, MSMEs, Government agencies, certifying bodies, end users etc.
4.Calibration Facility: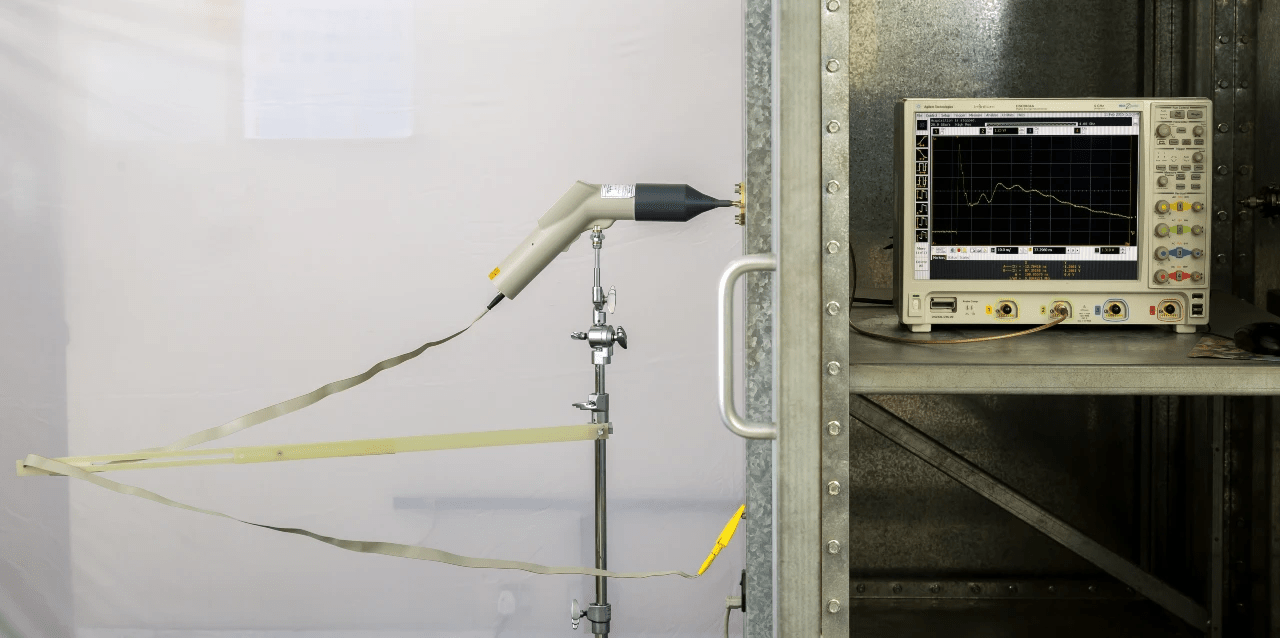 Rename as EMI/EMC M&TE Calibration Laboratory
At SAMEER-CEM, we offer a comprehensive range of facilities to support EMI/EMC test laboratories across the country with EMI/EMC Test and Measuring Equipment calibration. Our state-of-the-art calibration laboratory, the first NABL 17025 accredited facility in India, is equipped to handle various types of EMI/EMC equipment from different manufacturers.
We offer a wide range of calibration facilities for EMI/EMC test equipment and accessories. These include EMI Test Receivers, Semi Anechoic Chambers, ESD Generators, Conducted Susceptibility Test Generators, RF Power Amplifiers, Pre-Amplifiers, Antennas, LISNs, CDNs, ISN, Directional Couplers, BCI Probes, and more. Our comprehensive calibration capabilities ensure that your equipment is operating at peak performance and meeting the necessary standards.
Calibration Facilities at SAMEER-CEM :
Time Domain Calibration :
Electrical Fast Transient Test System
High Energy / Telecom Surge Test System :
Electrostatic Discharge Generator :
Damped Oscillatory & Ring Wave Generator :
Oscillation Frequency (Period)
Voltage Dips & Interruption Generator :
Output Voltage at no load
Automotive Transient Generator
Amplitude with and without Load
Frequency Domain Calibration
EMI Test Receiver:
Display error of Detectors with Pulses (Peak, Quasi-peak, RMS, Average, RMS-Average)
Display error of Detectors with Sinusoidal Signals
Antenna:
Antenna Factor (ANSI C63.5 / SAE ARP)
Harmonics Level (up to 3rd Harmonics)
Error of forward power meter
Error of Reverse power meter
16-point Field uniformity calibration as per IEC 61000-4-3
Shielding Effectiveness (Magnetic Field)
Shielding Effectiveness (Electric Field/Plane Wave)
Normalized Site Attenuation
Signal Generator:
Harmonics Level (up to 3rd Harmonics)
RF Power Amplifier :
Harmonics Level (up to 3rd Harmonics)
Input port Return loss (VSWR)
Impedance Stabilization Network
Longitudinal conversion Loss
Decoupling of Common Mode Disturbance
Line Impedance Stabilization Network :
Directional Coupler / SWR Bridge :
Coupling Factor/Coupling Loss
Coupling & Decoupling Network
Decoupling of Common Mode Disturbance
EM Clamp :
Coupling Factor/Coupling Loss
Transient Limiter, Attenuator, Cable
Insertion Loss / RF Attenuation
Pre-Amplifier :
Bulk Current Injection Probe
Insertion Loss / RF Attenuation
EM Clamp:
Coupling Factor / Coupling Loss
Note: The list includes various other similar calibration facilities not specifically mentioned here.
When you choose SAMEER-CEM for EMI/EMC equipment calibration, you benefit from our state-of-the-art facilities, ISO-17025 compliant processes, flexibility in scheduling, quick turnaround time, and most importantly, our highly experienced team. We have gained extensive expertise in EMI/EMC testing and measurements, enabling us to deliver accurate and reliable calibration results.
Ensure the accuracy and reliability of your EMI/EMC test equipment with our ISO-17025 accredited calibration services. Contact us today to discuss your calibration needs and experience the advantage of working with SAMEER-CEM.
End users : EMI/EMC laboratories across the country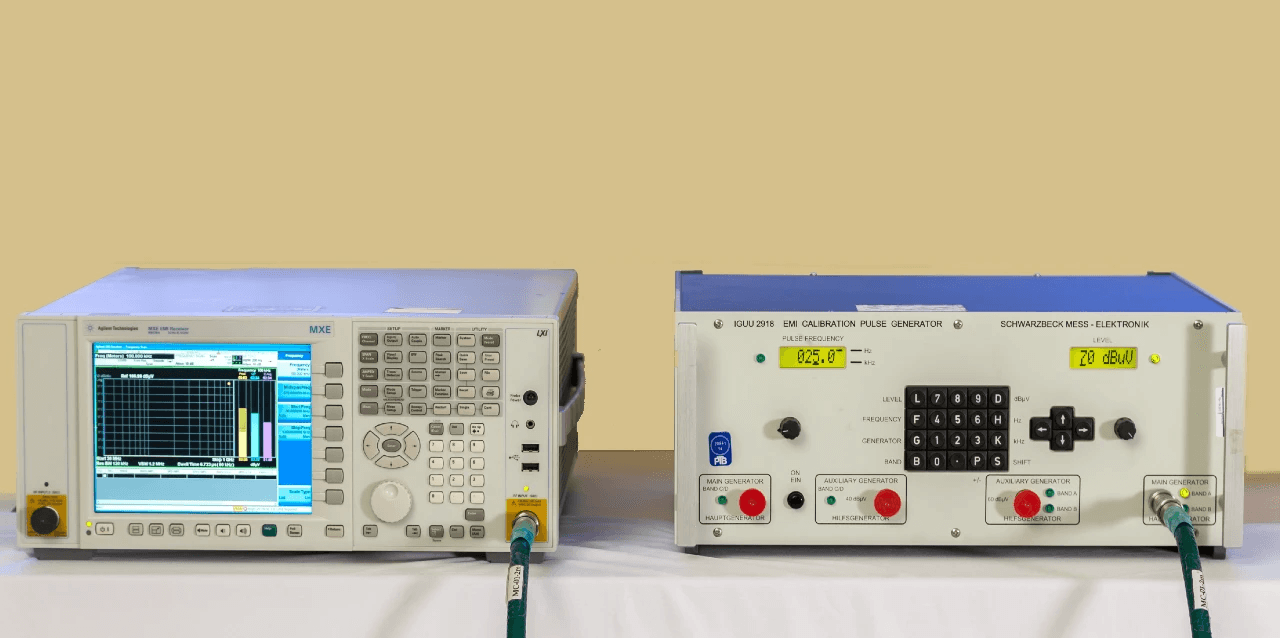 5 & 6 . MIL Chamber and MIL RS Immunity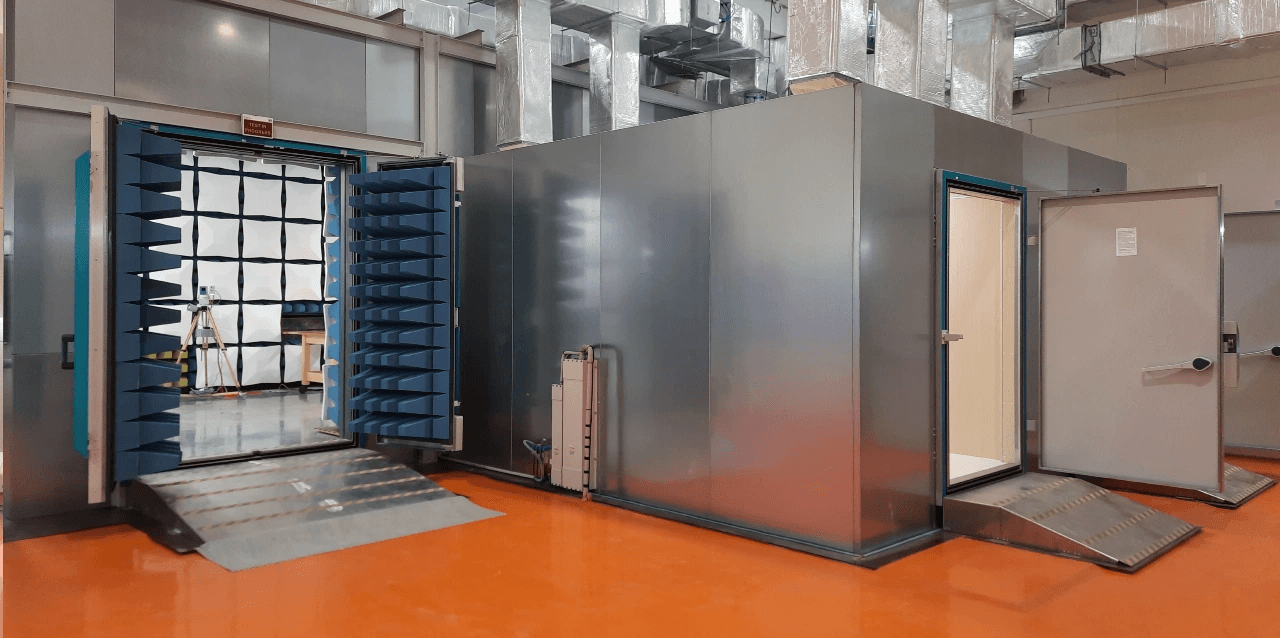 Combine and rename as MIL Std. EMI/EMC Facility Description: Introducing the New MIL EMI/EMC Facility at SAMEER - Centre for Electromagnetics, a prestigious project funded by the Ministry of Electronics & Information Technology (MeitY). This state-of-the-art facility has been established to meet the stringent requirements of MIL 461 E/F/G Standards, serving the defense and strategic sectors. The establishment of this facility aligns with the Government of India's vision of achieving Atmanirbhar Bharat (self-reliant India).
The MIL EMI/EMC Facility features two cutting-edge Shielded Anechoic Chambers equipped with fully automated instrumentation. These chambers provide an ideal environment for conducting precise and accurate tests and measurements. Shielded Anechoic Chamber-1 offers dimensions of 8.5m×5.8m×4.2m, while Shielded Anechoic Chamber-2 provides ample space with dimensions of 12.28m×7.98m×6.08m. With these chambers, we have the capacity to support tests and measurements up to 40GHz, ensuring comprehensive coverage for a wide range of applications in the defense and strategic sectors.
One of the key highlights of the facility is the Radiated Immunity capability, which enables us to perform immunity measurements for field strengths up to 200V/m within the frequency range of 2 MHz to 40 GHz. This feature allows us to thoroughly evaluate the performance and resilience of electronic systems in the face of challenging electromagnetic environments. By providing such high-level testing capabilities, we contribute to enhancing the reliability and effectiveness of defense and strategic sector technologies.
Our MIL EMI/EMC Facility is equipped with fully automated test facilities, ensuring efficient and streamlined operations. This automation enhances the accuracy and repeatability of measurements while optimizing the overall testing process. By leveraging these advanced capabilities, we can provide prompt and reliable results, enabling our clients to meet the rigorous standards required by the defense and strategic sectors.
The facility encompasses a comprehensive range of measurements, including but not limited to :
RE101 (Radiated Emissions, Magnetic Field)
RE102 (Radiated Emissions, Electric Field)
RS101 (Radiated Susceptibility, Magnetic Field)
RS103 (Radiated Susceptibility, Electric Field)
CE101 (Conducted Emissions, Power Leads)
CE102 (Conducted Emissions, Antenna Terminal)
CE106 (Conducted Emissions, Transient Interference)
CS101 (Conducted Susceptibility, Power Leads)
CS106 (Conducted Susceptibility, Transient Interference)
CS109 (Conducted Susceptibility, Electrostatic Discharge)
CS114 (Conducted Susceptibility, Bulk Cable Injection)
CS115 (Conducted Susceptibility, Bulk Cable Injection at RF)
CS116 (Conducted Susceptibility, Damped Sinusoidal Transients)
CS118 (Conducted Susceptibility, Damped Sinusoidal Transients, Interconnecting Cables)
The project is being implemented supporting the 'AatmaNirbhar Bharat Abhiyaan' initiative, showcasing our commitment to developing indigenous capabilities and fostering self-reliance in the EMI/EMC domain.
With our state-of-the-art MIL EMI/EMC Facility, we stand ready to support the defense and strategic sectors in their pursuit of excellence and compliance with the highest standards. Contact us today to explore how our advanced testing capabilities can contribute to the success of your projects in these critical sectors.
End Users : Defence Establishments, Defence Product Manufacturers, Certifying Agencies, End users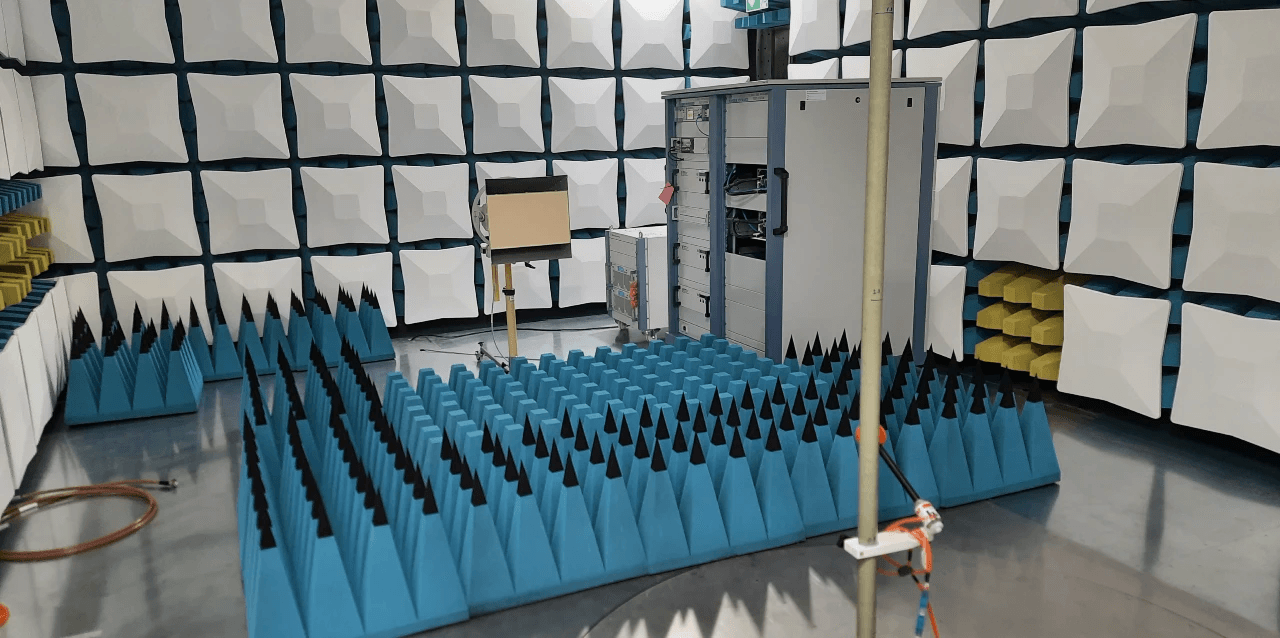 CEM- Calibration-1,CEM-Calibration-2,CEM-Calibration-3 &CEM-Calibration-4 Calibration Facilities @ SAMEER-CEM, Chennai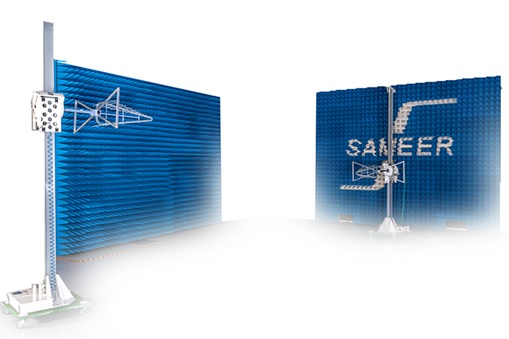 Anechoic Chamber (Field Uniformity, Shielding Effectiveness, NSA, sVSWR
Line Impedance Stabilization Network
Bulk Current Injection Probe, EM Clamp.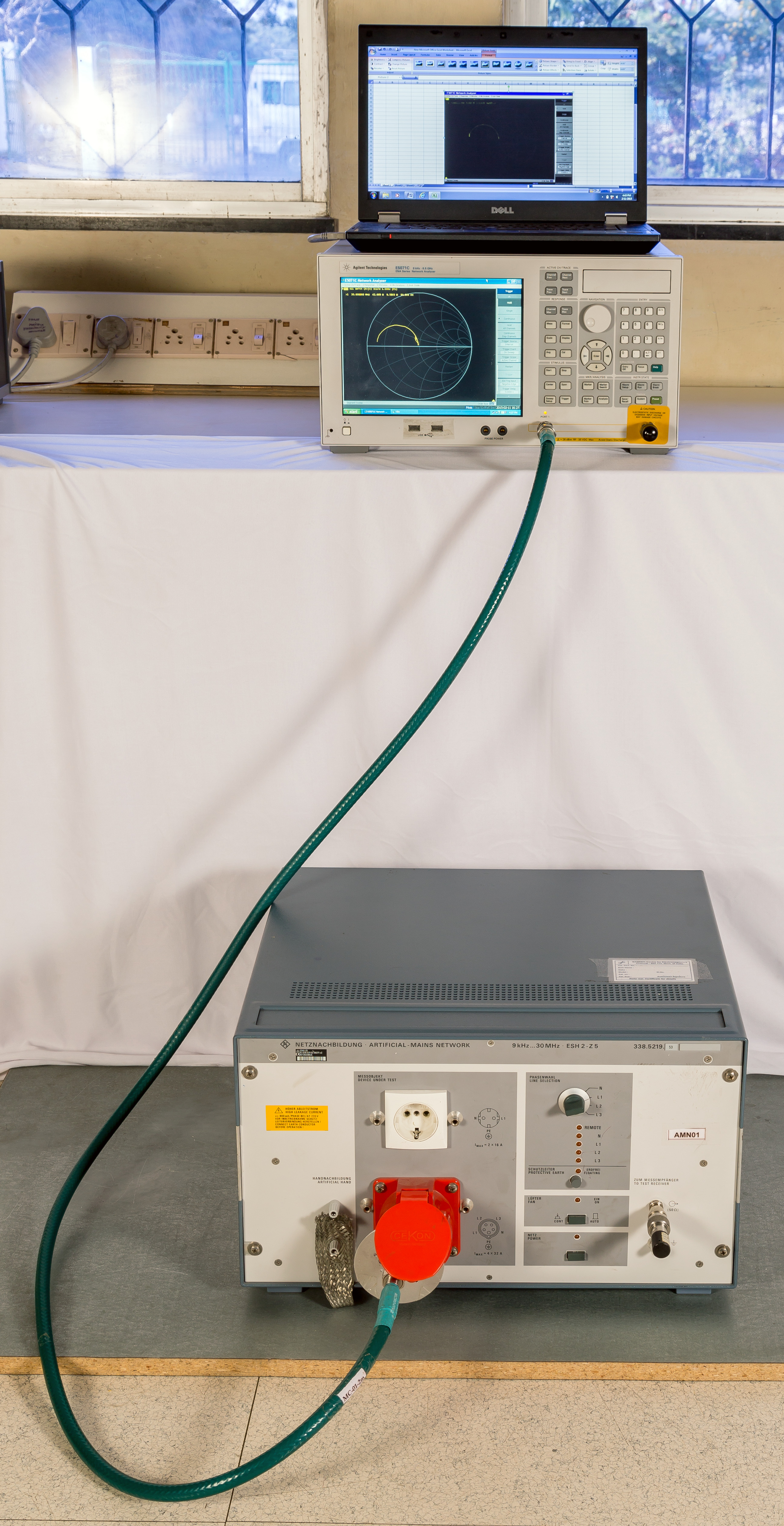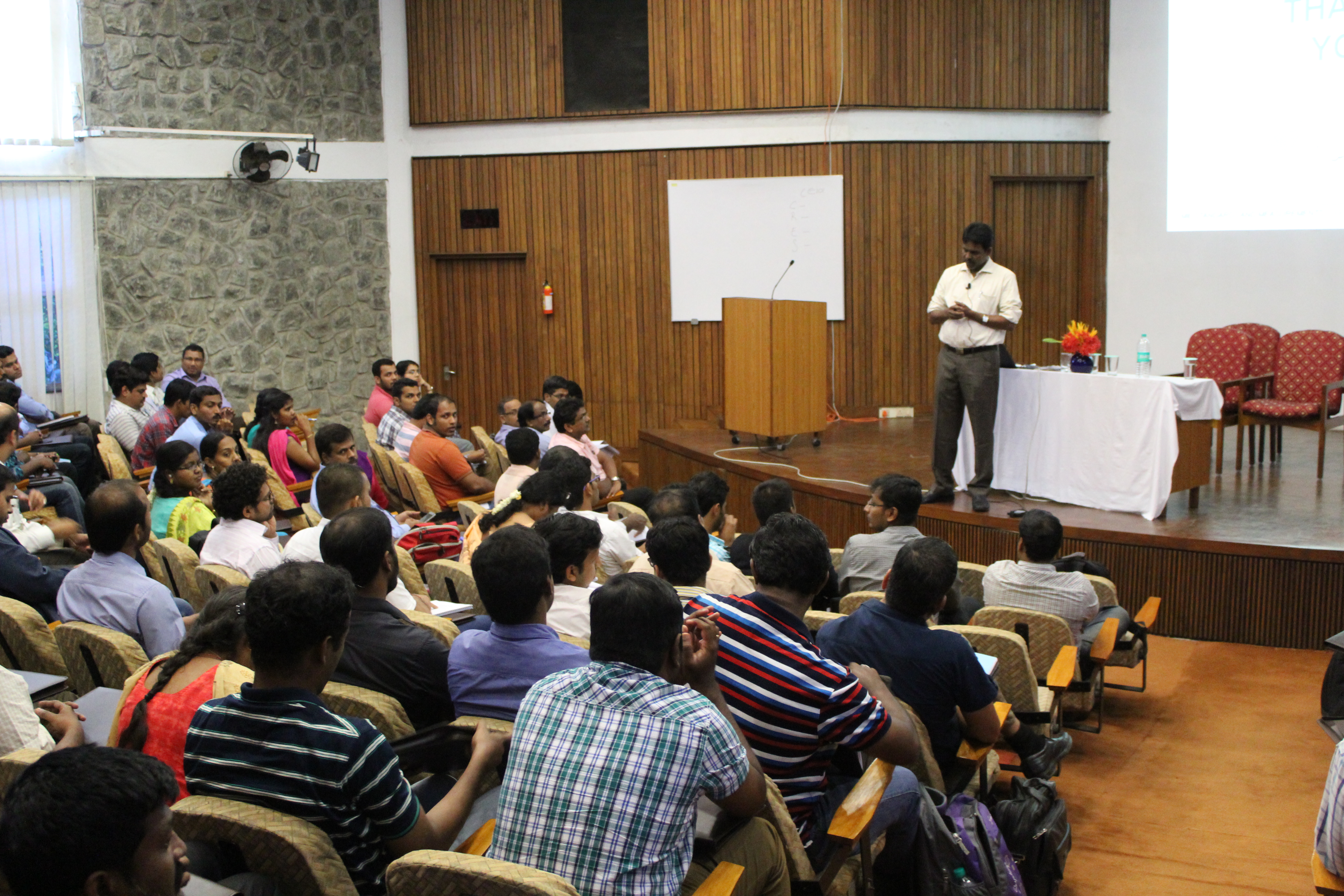 CEM-Civilian-3:
EMC Training: EMC Training is provided by offering flexible options, including onsite, offsite, and online training sessions. Participants can benefit from hands-on training, specifically focusing on the proper utilization of EMC test instruments during EMI/EMC tests. The training programs are designed to cater to different schedules, with options available for both one-day and two-day sessions. Additionally, customized training programs can be developed based on specific requirements upon request, ensuring that participants receive training tailored to their particular needs and objectives.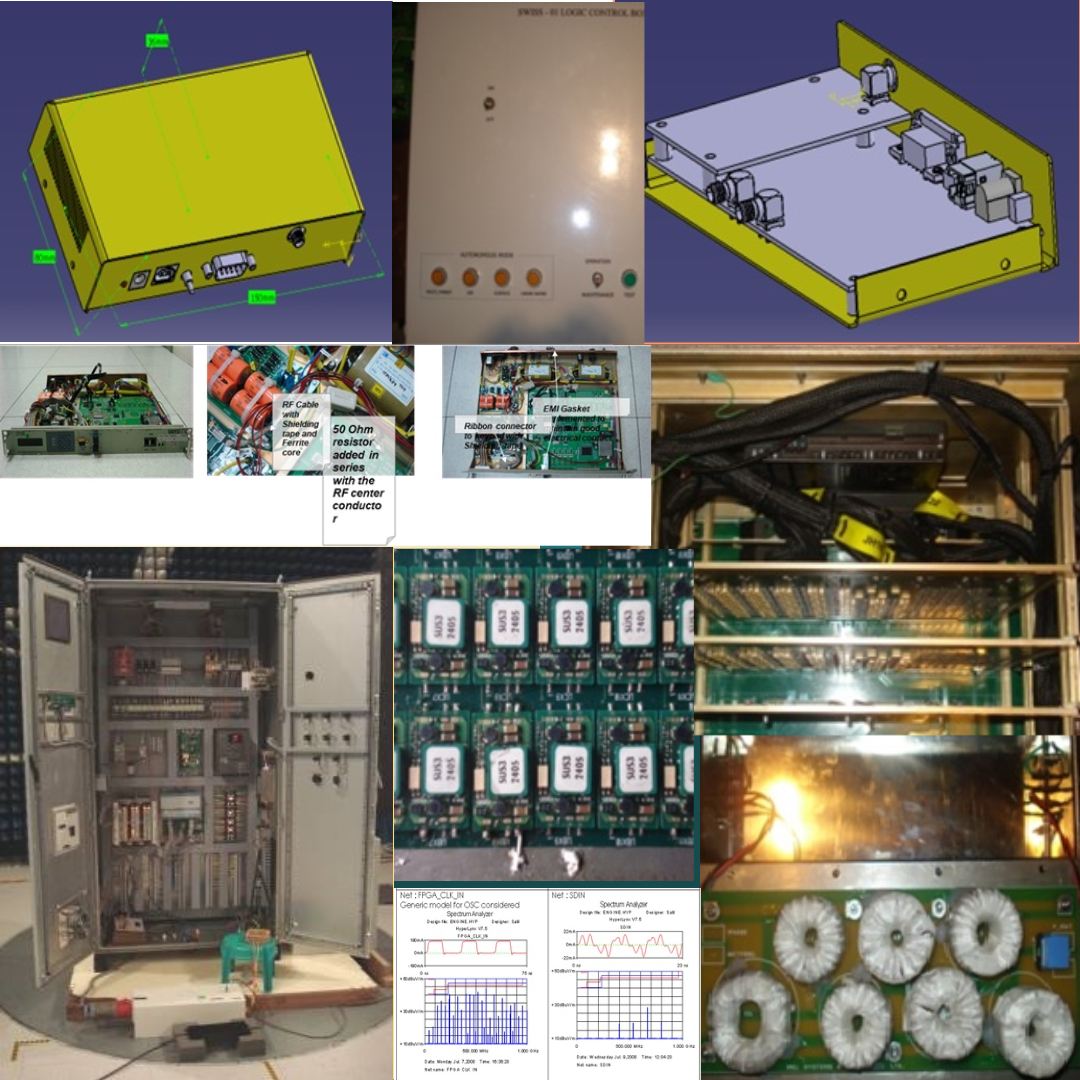 4. CEM-EMC Design-1
CEM-EMC Design-1 provides valuable expertise in EMC testing and offers comprehensive EMC Design assistance to tackle even the most challenging EMC problems. Their services are geared towards resolving field and non-compliance issues in products. To facilitate their work, they are equipped with an extensive array of diagnostic tools and a wide selection of power line filters, signal line filters, and ferrite cores, all designed to suppress noise effectively.
As part of their service, CEM-EMC Design-1 conducts thorough EMC reviews of products, providing valuable guidelines for improvement. Additionally, they possess specialized software tools that enable them to carry out electromagnetic simulations to address various EMC aspects of the products they handle. With these resources at their disposal, they are well-prepared to assist clients in achieving optimal electromagnetic compatibility for their electronic devices and equipment.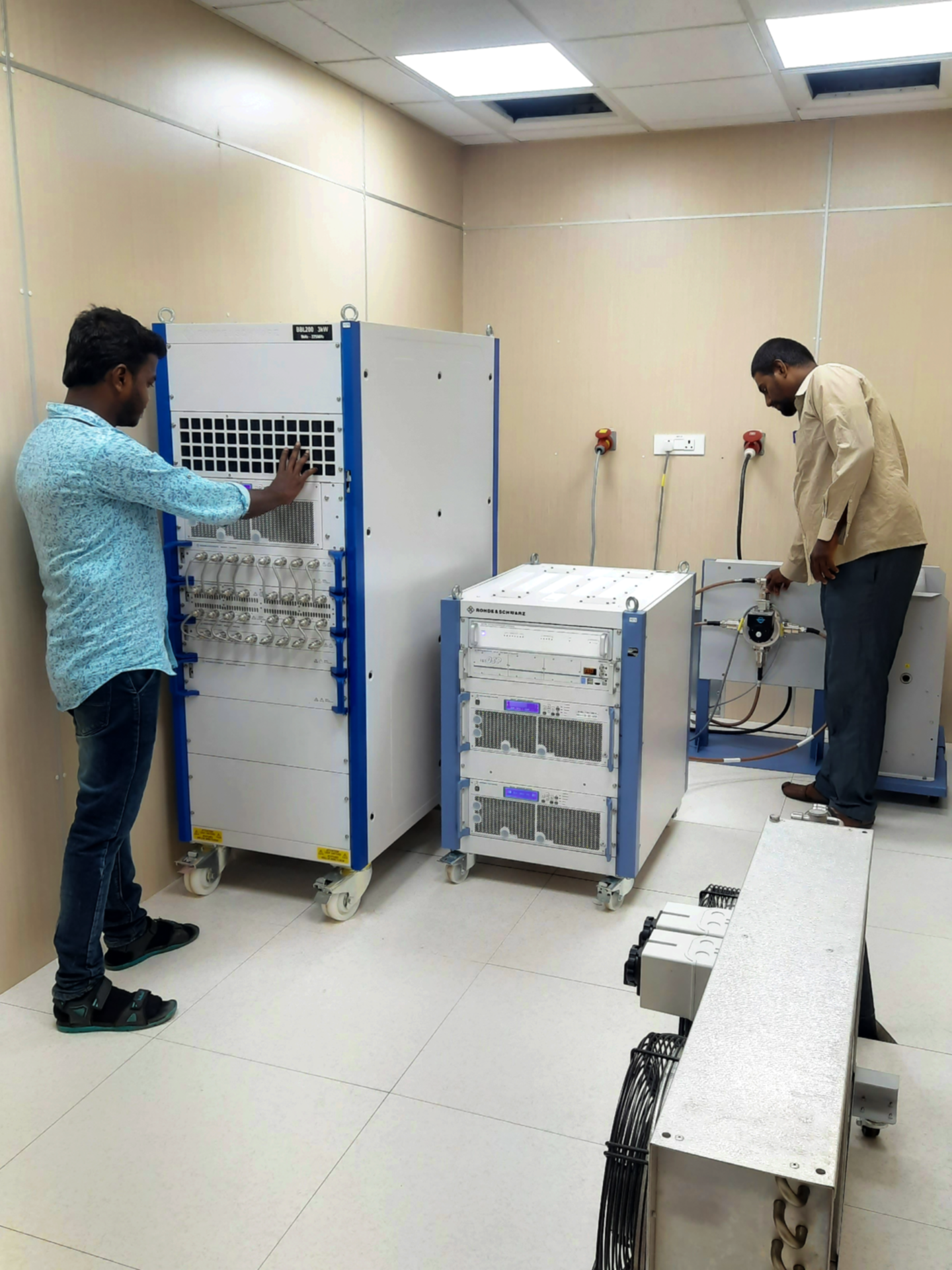 6.CEM-New Facility-2 & CEM-New Facility-3:
Fully automated Emission & Immunity MIL STD Testing Facility:
CEM-New Facility-2: The new facility at CEM offers a fully automated Emission & Immunity MIL STD Testing capability. Both Emission and Susceptibility Testing can be conducted within a wide frequency range, starting from 30Hz and extending up to 40GHz. The facility utilizes a Fully Automated Test System Software, specifically designed for Radiated Susceptibility Testing, covering a range of up to 200V/m and frequencies from 2MHz to 40GHz. The EMC ware software is employed to streamline and enhance the testing process.
CEM-New Facility-3: At the new facility, comprehensive testing services are available for various standards, including MIL Standard 461 /E/F/G, IEEE, Automotive, DO-160, Commercial, Railways (RDSO), Telecom, and Product Standards. The facility's testing capabilities cover an extensive list of test methods, including RE101, RE102, RS101, RS103, CE101, CE102, CS101, CS106, CS109, CS114, CS115, CS116, and CS118. Moreover, it also supports antenna terminal tests for CE106, CS103, CS104, CS105, and RE103, ensuring a comprehensive and thorough evaluation of electromagnetic compatibility for a wide range of electronic devices and systems.